Greater Norristown Police Athletic League
Education, Health, Recreation, Community
---
Carp Dental donates toothbrushes to GNPAL
---
J.P. Mascaro & Sons assists GNPAL Track Team
with their Junior Olympics plans
The GNPAL track team has had a successful track program over the years with many of their athletes qualifying for post season competitions.  Some have even qualified for the Junior Olympics in years past, but due to the costs involved, they have been unable to attend.
This year, the team will be going Eastern University in Detroit for the first round of the Junior Olympics in late July.  J.P. Mascaro & Sons is donating $10,000 to help with the expenses.  Pat Mascaro is asking other area businesses to match their donation to cover the costs.
To see the article in the Times Herald about the team and Mascaro's donation, click on Mascaro donation to GNPAL.
---
Rotary Club of Norristown present its 2017 grant to GNPAL
At its June 8 meeting, Rotary Club of Norristown presented Greater Norristown PAL a check for its 2017 grant.  The funds were raised at its annual pancake breakfast in May.  In his remarks, GNPAL Board President Lee Holmes indicated that the money will be used for security improvements and for updating administrative computers.
---
Montgomery County Chamber of Commerce honors GNPAL at Celebration of Excellence Awards 2017
Greater Norristown PAL received the 2017 Excellence in Community Service Award from Montgomery County Chamber of Commerce at its Celebration of Excellence reception on April 25, 2017.
GNPAL featured in IBX Foundation' s Journal of Change
The Independence Blue Cross (IBX) Foundation's Journal of Change magazine features GNPAL as the centerfold article in the Fall 2016 issue.  To see this issue of the Journal of Change, click on Journal of Change and go to pages 16 and 17, or view a PDF of the article by clicking on GNPAL article in journal-of-change-fall-2016-pages-16-17.
---
GPNAL Receives IPromise Grant from Volpe & Koenig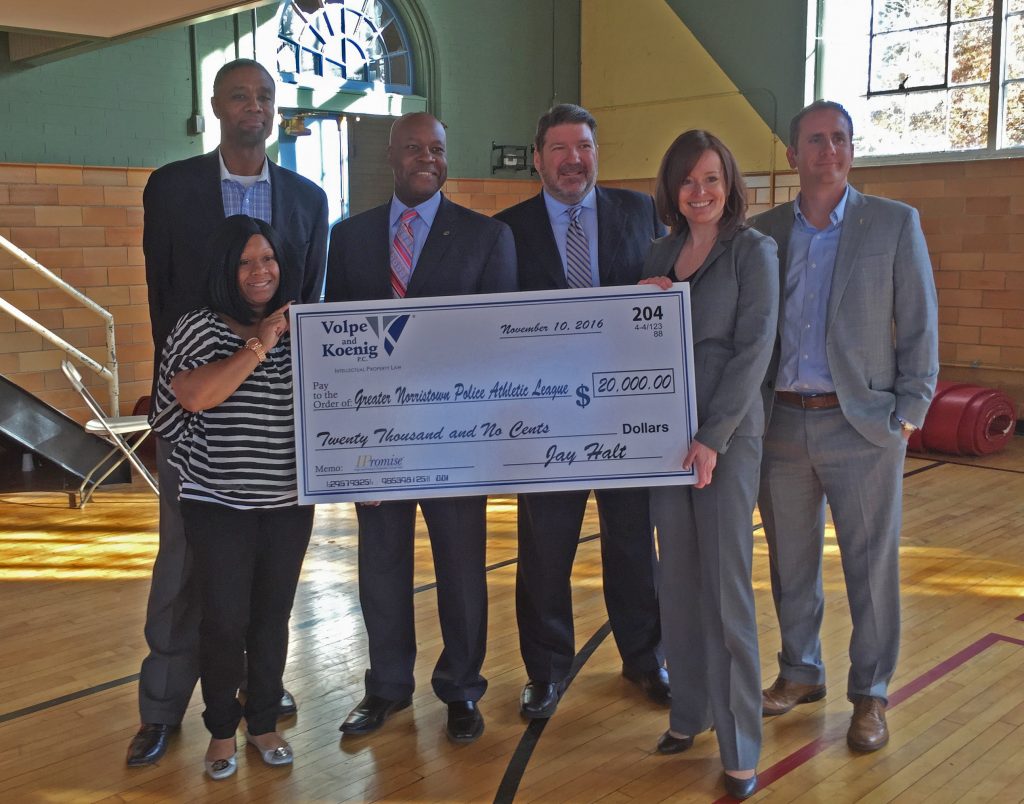 Check presentation at GNPAL on November 10, 2016.
The Greater Norristown Police Athletic League serves the youth and families of the Greater Norristown community with recreational, educational and cultural programs addressing citizenship, self-esteem, avoidance of substance abuse and respect for law and order. Commented Kenneth A. Fennal, Director of Operations, "Greater Norristown Police Athletic League is truly appreciative of this IPromise grant. Being selected from a pool of equally worthy non-profits across the Delaware Valley is a direct reflection of the meaningful work GNPAL does for our community, specifically our youth. With this grant, GNPAL will be able to continue providing a diverse roster of arts, culture and education programs that help to guide youth into well-rounded, productive citizens." IPromise funding will support the organization's ACE (arts, culture and education) Programs.
---
Quaker Chemical presents check to GNPAL