Greater Norristown Police Athletic League
Education, Health, Recreation, Community
---
GNPAL Programs
All participants must have a valid Greater Norristown PAL membership except as noted.
Adobe Reader is required to open the file and may be downloaded free by clicking Adobe Reader.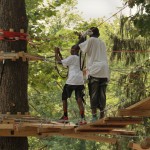 FAME Summer Program
participants saw the Elmwood Park Zoo from above while participating
in the zoo's new Treetop Adventures  which features ziplines through the trees at the zoo.
♦
The information below does not reflect GNPAL programs that are not currently active.  Please check this page frequently as well as the drop-down menu under "Programs" in the blue navigation bar at the top of the page for updated program information.
---

Open Gym
Monday through Thursdays from 3 to 6 p.m. and Fridays from 3 to 5 p.m.

---

Tae Kwon Do – new program
Students will learn self-defense, discipline and a positive mental attitude.  For ages 6 to adults.   Meets Wednesdays and Fridays from 5:30 to 7:30 p.m.
Classes forming now.  Sign up at GNPAL.
For a flyer (pdf), click on Tae Kwon Do flyer 2-rev

---

Capoeira
(Brazilian Dance program)
Thursdays, 6 to 8 pm.  Open to both youths and adults.  For a flyer (PDF), click on Capoeira flyer 6-29-15.

 ______________________________

Chess
The Chess Club meets every Wednesday all year long from 6 to 7:30 pm.  For all ages (including adults) and all skill levels are welcomed.   For a flyer (PDF), click on GNPAL Chess Club-2014 v2 or .GNPAL Chess Club 2014 -Spanish v2
Fee: GNPAL Membership required

___________________________

Boxing
Monday – Friday from 3:30 to 8 p.m.  Call GNPAL for details and availability.

For information on boxing's "I Got Hands" Mentoring  Program, click here.

2017 F.A.M.E.

(Fun Activities for Middle school Enrichment)

On Tuesdays and Thursdays from July 11 to 27 there will be six activities for students who are currently in middle school.  They include bowling, horseback riding, Elmwood Park Zoo, fishing, Sky Zone, and cooking/bocce.  Cost is $5/activity plus a valid GNPAL membership.

Details, dates and times will be available soon, so check back often.

---

Cuddles and Care
A discussion group for girls age 6 to 12 addressing issues in their lives.
Meets on Thursdays from 5 to 6:30 p.m.

---

Tell It Like It Is
A discussion group for teenage girls addressing issues in their lives.
Meets on Fridays from 5 to 6:30 p.m.

---

Music Lessons at Centre Theater
Contact the GNPAL office for details.

---

Mexican Folklore Dancing
Monday and Wednesday nights from 6 to 8 pm.  For a flyer (PDF), click on Ballet Folklorico flyer – 2015.

---
♦   ♦   ♦   ♦   ♦